Criminal Cases and Attorney Services
Law Firms and Attorneys use polygraph examinations in the pre-court phase and in civil litigation to determine truth in a client's case, verify a client's truthfulness relative to a plea negotiation, to assist in general client control and verification of witness statements.
Is your client telling you the entire truth? Did your client really commit the crime? Are you doing all you can to protect and defend your client? Know the truth. A pre-trial polygraph examination can provide you with the information and answers necessary to defend your client. Our computerized polygraph examinations can be customized to address your specific needs for most criminal, corporate and civil matters.
All examinations and services are strictly confidential and adhere to Attorney-Client Privileges. Examinations are available 7 days per week with accurate and professional reports to use at your discretion usually available the same day.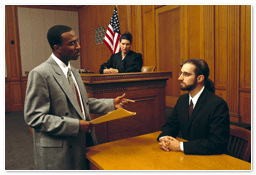 Drug Cases
Child Abuse
Sex Offenses
Violent Crimes
Property Crimes
Fraud and Forgeries
White Collar Crimes
Shop Lifting and Thefts
Central Polygraph Service utilizes state-of-the-art digital polygraph systems and conducts polygraph examinations according to strict standards and methods as approved and accepted by the American Polygraph Association and the U.S. Federal Government. Due to established laws, there is a strict limit of up to (4) pertinent test questions that may be established by the client for each polygraph examination (all other questions on the polygraph test are generic in nature and are established by the examiner for baseline purposes). Although each polygraph examination is always customized per the client's needs and requests, following is a sample list of just some of the types of approved pertinent test questions that are frequently used for criminal case type polygraph examinations:
SAMPLE POLYGRAPH PERTINENT TEST QUESTIONS
Did you ever physically strike (SPECIFIC NAME)?
Did you cause that injury to (SPECIFIC NAME'S) left cheek on (SPECIFIC DATE)?
Did you place any cocaine in that orange bag?
Did you place that orange bag in the back of the red pickup truck?
Did you ever touch any one of the bags of cocaine that were found in the back of the pickup truck?
Did you make any type of online membership payment for logging into that child pornography web site?
Did you download any naked images of anyone below the age of 18 to your home computer?
Did you enter the residence on 123 Main Street without authorization?
Did you take that missing laptop from the ABC Electronics Store on (SPECIFIC DATE)?
Polygraph Test Fee: $550.00 Per Test/Per Person ($100 Scheduling Fee + $450 Test Fee)
For more information on the polygraph testing process and how polygraph works, please see our " How Polygraph Works " section by clicking here.
For answers to frequently asked questions, please see our " Test Guidelines and Frequently Asked Questions " section by clicking here.
For more information on our test fees and cancellation policy, please see our " Test Fees and Cancellation Policy " section by clicking here.
For a list of representative case citations regarding the admissibility of polygraph results in court, please click here.